I just wanted to say a big "good luck" to young Richard Lee, a 16 year old from Vancouver who qualified for the US Open!
Can you imagine shooting a 62 at 12 years of age??? I can, but that would be for 9 holes 🙂
Well, Richard, we'll be following you at Oakmont and wishing you all the best!
Play well…but most of all…enjoy the journey.
Golfgal
---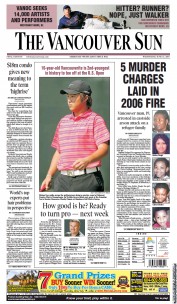 How good is he? Ready to turn pro — next week
CAM COLE
The Vancouver Sun
13 Jun 2007

OAKMONT, Pa. From the day Richard Lee shot 62 in the B. C. Junior Golf Championship as a 12year- old, his name has been filed away with an asterisk — one to watch, some day. When he grew up. No one thought some day would arrive so soon. That is, no… read more…
Tech Tags: The Vancouver Sun newspaper Front Page
Pamper yourself on Maui! Book your little piece of heaven in golfers' paradise. Book now at http://www.vrbo.com/424659 and tell them Golfgal sent you!