As a woman who has "grown up in a man's world" in the business of high technology, I am pretty used to getting treated with respect and equally among my peers (with a few exceptions that don't deserve to be mentioned). So, I was quite amazed by all the excitement of the LPGA playing at St Andrews. One…I didn't know this was a first (shame on me) and two…I couldn't believe that it's take this long to let the LPGA grace the fairways of the home of golf (shame on them – whoever "them" are).
This is going to be a wonderful tournament to watch and I am hopeful that the viewing audience on TV is beyond anything we've seen before. The quality of golf on the LPGA is better than it has ever been (IMHO) and perhaps this championship will open the eyes of golfers who have been slow to acknowledge (or ever watch) the women show off their amazing skills.
I would love Annika to win this one – she is still the queen of golf in my book.
Back at you tomorrow…
Golfgal
---
Opening new doors in golf
KAREN C ROUSE NEW YORK T I MES
The Gazette
02 Aug 2007

NEW YORK – The first time golf lured Louise Suggs to Britain, she carried a footlocker filled with clothes and canned hams and travelled by ocean liner. That Atlantic crossing, in 1948, took one week and made her seasick. The journey she will complete… read more…
Tech Tags: The Gazette newspaper Sports
---
The Gazette
02 Aug 2007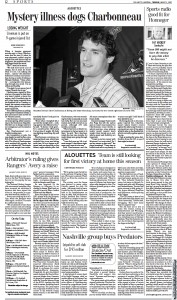 Pamper yourself on Maui! Book your little piece of heaven in golfers' paradise. Book now at http://www.vrbo.com/424659 and tell them Golfgal sent you!