Although most of today's news is about Drug testing in golf (yawn), I came across this story about Canada Geese in California not flying south because they are just too fat from all the junk food bird lovers are feeding them.
At first I thought it was funny, but I'm the first one to tip toe through th e disgusting bird droppings at the water laden courses I play in Vancouver. The geese are beautiful, but the "presents" they leave on the course are becoming a serious problem.
I saw on TV at one of the championships (might have been on the European Tour) the superintendent bring his dog around the course in his cart throughout the day and send him out to chase the geese and ducks away. Not a bad idea…
How about we let our marshalls bring their dogs to the course and drive them around to scare away the birdies. I think that would be pretty cool. Dogs get exercise, course stays much cleaner and far less dead birdies from errant tee shots (yes, I've seen a few get knocked out)
BTW…nice to see Flesch win on the weekend. But did you try and sign up for Fantasy Four at the Golf Channel? What a mess! That program was not ready for prime time. The system was full of bugs. I have 4 support requests in so far. They have come back and said they will correct the mistakes they made with my roster, but so far, nothing's happened. I think they must be overwhelmed by support requests. Oh well..I was a programmer in an earlier life, so I can appreciate the fact that they may have rushed to release the program too early. Let's hope it's all cleaned up by the Viking tournament this weekend.
So far…my four haven't done too badly and I got all the passwords too (yes, I am addicted) 🙂
Golfgal
---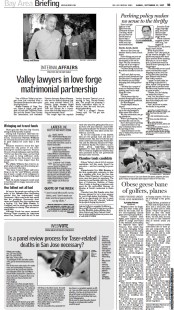 Obese geese bane of golfers, planes
By Kristina Peterson MediaNews
San Jose Mercury News
23 Sep 2007

Weighted down by doughnuts and other treats proffered by the locals, Palo Alto's once-migrating Canada geese aren't going anywhere. They've canceled their flights, park rangers say, and prefer to lounge year-round in the wetlands surrounding the… read more…
Tech Tags: San Jose Mercury News newspaper Bay Area Briefing


Pamper yourself on Maui! Book your little piece of heaven in golfers' paradise. Book now at http://www.vrbo.com/424659 and tell them Golfgal sent you!