Hi y'all
I don't know about you, but as a Canadian, "eh", I am pretty disappointed in the lack of attention paid by Canadian newspapers on the Presidents Cup. Sure, they're talking about it now, but frankly, the past month or two should have been full of stories and articles and interviews about it. But I have online access to almost every paper in Canada through PressDisplay.com and there has hardly been a peep about it.
Canada is a wonderful country, but we do have some issues with promoting ourselves. Where is all the hooplaa about Mike Weir in Canadian news? Are we so afraid he'll fail that we're afraid to over-promote him? I personally didn't think he should have made the team as he didn't earn it this year (sorry Mike), but now that he is part of the team, why not exploit the heck out of it and get more attention on Montreal this week?
Oh well…I guess the US team has Mike Weir's back, but Canadian Press doesn't.
I'm proud to be Canadian, but sometimes I wish we made a little bit more noise about ourselves.
I did a bit of an Internet search and saw that there are quite a few tickets still available. I wish I could go, but I wish even more that they were sold out.
Come on Canada – it's the best of the best. Go out and show them a gallery like they've never seen before!
---
National Post
25 Sep 2007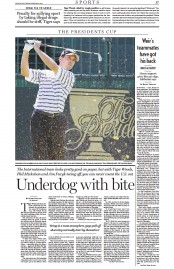 Pamper yourself on Maui! Book your little piece of heaven in golfers' paradise. Book now at http://www.vrbo.com/424659 and tell them Golfgal sent you!