Not sure if you want to read this one or not...
At first I thought...okay...I do walk as much as I can and when carts are mandatory at a club, I like to get dropped away from my ball and walk up to it...so I must be okay...
And then I read the rest of this and thought...Hmmph...they just described my game. So right now I feel I should just go out and shoot myself.
My partner always says..."You must be fit to play golf because golf won't make you fit."
Sigh....I hate it when he's right! :)
golfgal


---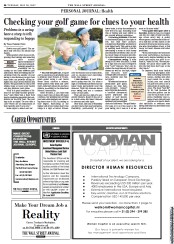 Checking your golf game for clues to your health
By Tara Parker Pope
The Wall Street Journal Europe
29 May 2007

How's your golf game? The answer may tell you a lot about your health. While golfers often focus on improving their swings and lowering their scores, sports-medicine researchers and golfindustry experts increasingly are focusing on the links between... read more...