This is too funny and oooohhh soooo true 🙂
I thought you all might enjoy this lesson in humility. I can relate very well to Mr. Patterson, but my notions of granduer happened after I birdied a hole. It was like I'd died and gone to golf heaven, and then every hole after that became "birdiable" – haha…NOT!!!
Golf is the most frustrating way to spend 4 hours, but that one hole, or that one round, will keep you coming back again and again for punishment. Will we never learn???!!!…………….I hope not 🙂
FORE!
Golfgal
---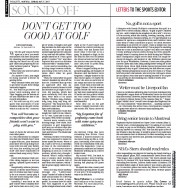 DON'T GET TOO GOOD AT GOLF
STEVE PATTERSON
The Gazette
27 May 2007

SPECIAL TO THE GAZETTE With the golf season firmly upon us, a lot of you weekend hackers out there are probably cleaning (and possibly hammering the dents out of) your golf clubs and preparing for another serious round of "improving your game." Well,… read more…
Tech Tags: The Gazette newspaper Classified
Pamper yourself on Maui! Book your little piece of heaven in golfers' paradise. Book now at http://www.vrbo.com/424659 and tell them Golfgal sent you!