Wow….14 holes in one…in just the last 4 months.
You think that's amazing…what if I tell you it was a WOMAN who only started golfing FOUR years ago.
What can we say, but "You go girl!!!"
Golfgal
---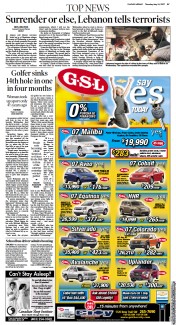 Golfer sinks 14th hole in one in four months
TIM REID TIMES OF LONDON WASHINGTON
Calgary Herald
24 May 2007

An amateur golfer hit her 14th hole in one in four months Wednesday. And she did it in style — in front of a television crew that had been sent to check out if her claims for the other 13 were true. Jacqueline Gagne, who took up golf only 4 years ago,… read more…
Tech Tags: Calgary Herald newspaper Top News
Pamper yourself on Maui! Book your little piece of heaven in golfers' paradise. Book now at http://www.vrbo.com/424659 and tell them Golfgal sent you!