It's sometimes hard to believe we're not living in the dark ages. I have no problem with private clubs that are specfically for one gender, male or female, but to have a golf club (that is supposed to be "open" to both sexes) treat women as second class citizens….well…it's just too pathetic for words.
A similar situation occured here in Vancouver at the Point Grey Golf Club…I won't go into it, but it created a real mess and even caused friction within families.
Anyway…bravo to the UK for cracking down on discrimination – it's about time!
Golfgal
---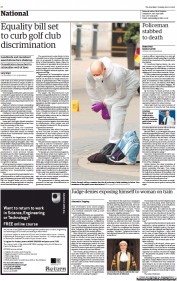 Equality bill set to curb golf club discrimination
Lucy Ward Social affairs correspondent
The Guardian
12 Jun 2007

Golf clubs and other private members' establishments will no longer be able to ban women members from their bars or discriminate in any other way on gender grounds under a shakeup of equality laws unveiled today. The change is outlined in a government… read more…
Tech Tags: The Guardian newspaper National
Pamper yourself on Maui! Book your little piece of heaven in golfers' paradise. Book now at http://www.vrbo.com/424659 and tell them Golfgal sent you!