Hey there
Did you know that golf is a $ 2.7 billion a year industry and that it is the No. 1 participation sport in the world with about 61 million players worldwide, of which 55 per cent take three golfing trips a year and 47 per cent cite golf as being their main reason for choice of holiday destination?
Of course you did…if you're reading this, you're a golfer who knows how to keep score…
Did you also know that in the US it is estimated that 83 per cent of business deals are closed on a golf course or at the 19th hole. [My buddy at BusinessGolf certainly knows this and you really should get his book to tell you how to close some deals!]
I love reading stories about the value of golf and how it contributes to our communities and society, especially when I see arguments from football fans and hockey fans who say golf it not a sport (because you can smoke when you play it). I have a whole lot to say about the argument of golf as a sport or just a game, but I'll save it for another round.
See you in the short grass!
Golfgal
---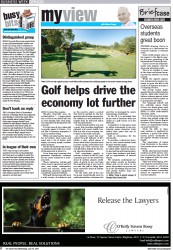 Golf helps drive the economy lot further

The Cairns Post
20 Jun 2007

GOLF is more than a game. Winston Churchill once described golf as "… a game whose aim is to hit a very small ball into an even smaller hole, with weapons singularly ill- designed for the purpose". It is the time of year when golf is popular again in… read more…
Tech Tags: The Cairns Post newspaper MYVIEW
Pamper yourself on Maui! Book your little piece of heaven in golfers' paradise. Book now at http://www.vrbo.com/424659 and tell them Golfgal sent you!