Check out this short article below…
This jerk is NO GOLFER!
His behavior is despicable and if I were the judge, I would ban him from golf for a year (or more!) as part of his punishment and I think a $5,000 fine is ridiculously low – he could have done some serious damage and could have caused a major accident. He shouldn't be able to drive on or off the course until he gets serious help in anger management.
And then….he would have to join "the first tee" and learn how to be a good citizen of the game and of this planet.
Should the woman have honked? No…I think the horn is for safety, not angry outbursts, but it was reasonably harmless. A more acceptable response from the man might have been to honk back or flash his lights or give her the one finger salute.
But using golf balls as weapons, well…that's going way too far. AND….I bet he didn't even yell FORE when he threw them!
Golfgal
---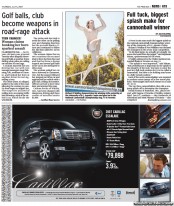 Golf balls, club become weapons in road-rage attack

The Province
05 Jul 2007

CLAREMONT, Ont. — An 18year-old man was arrested Tuesday after allegedly throwing golf balls at another driver during what police are calling an incident of road rage. A woman reported she was driving her car with two teenage passengers near… read more…
Tech Tags: The Province newspaper News
Pamper yourself on Maui! Book your little piece of heaven in golfers' paradise. Book now at http://www.vrbo.com/424659 and tell them Golfgal sent you!