Wow…what a weekend, eh?
It was a tough call whether to play or to watch tv this weekend, but for those of us who are addicts…we always find a way to do both 🙂
Up at 5 AM PST to see the Open kick off the day…listen to it on the radio to the golf course (now that was a treat) ….play 18 holes in the pouring rain…come home and watch the highlights with friends as we munch on wonderful Indian food from my favorite restaurant in Vancouver (Rangoli – owned by Vij). What could be better than that! (ok…maybe a little less rain)
I don't have much to say today as it's really been said by others, but I do want to say these 2 things:
1. Congratulations Padraig – well deserved!
2. Sergio…your time will come. Don't lose hope. I know your comments about "playing against more than the field" really peeved off the media (and particularly the golf channel mouth pieces), and you probably shouldn't have said it (even if it is true). But I understand. You haven't been their favorite player because you haven't learned to "talk the talk" and keep your opinions to yourself. You keep forgetting "YOU don't have opinions – only COMMENTORS/ANALYSTS/MEDIA are allowed to have opinions."
If you walk over that line and state what you really think, you better be sitting in Johnny Miller's seat (retired and crossed over to the dark side :))
Yes, I didn't like it when you spit into the hole that day when you missed your putt, but hey…we all do stupid things. And yes, you sometimes put your foot in your mouth, but I know you are a passionate person and your fans love you for that (and your very cool commercials :)).
I do think you were playing against more than the field on Sunday, but that's life in sports – you have to play your game and THEIR game. The truth will not set you free in the media – silence and a really nice smile will 🙂 You've got the smile…just work a bit on the silence part.
Stay true to yourself, and sign up for some media training during the off season 🙂
I'll cheer for you in 3 weeks!
Golfgal
---
The Guardian
23 Jul 2007

---
Irish Independent
23 Jul 2007

---
The Irish Times
23 Jul 2007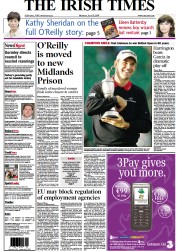 Pamper yourself on Maui! Book your little piece of heaven in golfers' paradise. Book now at http://www.vrbo.com/424659 and tell them Golfgal sent you!