As much as I can understand the desire to "retire" to New Zealand, it will be such a shame to see someone new on Tiger's bag. I don't know about you, but I think Williams is a huge part of Tiger's game and he's my personal favorite caddie on any tour (well, maybe a tie with Henrick's Fanny Sunneson :)).
I really enjoy watching the dynamics between Stevie and Tiger. I wish him well, but he will be a very hard person to replace.
I wonder how long this has been in the works. Tiger is certainly going through some serious changes in his life. I wonder if this is on his mind at the AT&T and a reason he isn't playing at par.
Oh…I did find out where the name Sam came from. Earl called Tiger, Sam, his whole life and when Tiger asked him why he didn't call him Tiger, Earl said, "You look more like a 'Sam'".
Off to the first tee – it's a beautiful day in Vancouver. Have a great weekend and I'll chat with you from Ottawa next week.
Golfgal
---
Irish Independent
05 Jul 2007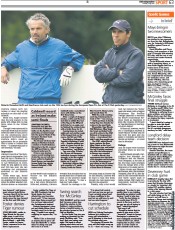 Pamper yourself on Maui! Book your little piece of heaven in golfers' paradise. Book now at http://www.vrbo.com/424659 and tell them Golfgal sent you!