Well, I don't know about you, but I'd love to see "The Big Easy" pull this out of the bag. He is by far my favorite player, not because I think he is the best – he's just epitimizes the sport to me.
My second choice is Monty, because he really deserves a major this year. Even with his temper, I feel a fondness for him. I guess I'm just a sucker for a man with curly hair (or any hair for that matter).
Tiger is 3rd.
Zach 4th (he seems like such a gentle person – I am starting to really like his personality)
Jim F 5th
Phil's not even on my list. I don't quite know why I don't like him very much. Losing last week brought back memories of Wingfoot. I am sure he is a fine person, but there's something about him that rubs me the wrong way. Sorry Phil fans!
Who do you want to win?
Golfgal
---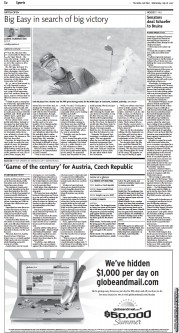 Big Easy in search of big victory
LORNE RUBENSTEIN GOLF rube@sympatico.ca CARNOUSTIE, SCOTLAND
The Globe and Mail
18 Jul 2007

Ernie Els, the man who could easily be king if not for Tiger Woods – the man who is king – loped over to the practice green and, later, on to the course, as if he were on a mission. Els, the 1994 and 1997 U.S. Open and the 2002 British Open champion,… read more…
Tech Tags: The Globe and Mail newspaper Sports
Pamper yourself on Maui! Book your little piece of heaven in golfers' paradise. Book now at http://www.vrbo.com/424659 and tell them Golfgal sent you!