Well…this story certainly caught my attention. I have to say that if I could improve my tempo, I could chop 10 strokes off my game, no problem.
I wonder if "Fore Inventors Only" have seen this. I would love to give it a try. My 7 iron would be the perfect club to start…then my driver. Of course, I may find the music I create with my swing will make me want ear plugs rather than a headset 🙂
la la la
Golfgal
---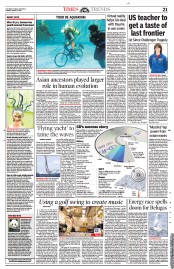 Using a golf swing to create music
Damon Hack NYT NYT NEWS SERVICE
Times of India New Delhi Edition
07 Aug 2007

In Room 415 of the Becton Center, a gray and humourless building on the edge of the campus of Yale University, a physics professor named Robert Grober spent a recent morning hitting scuffed golf balls into a beat-up net. With every swing, the club… read more…
Tech Tags: Times of India New Delhi Edition newspaper TIMES TRENDS
Pamper yourself on Maui! Book your little piece of heaven in golfers' paradise. Book now at http://www.vrbo.com/424659 and tell them Golfgal sent you!