This seems like "much to do about nothing" to me. Drug testing for athletes is common all over the world. If golfers want the game to be called a sport and themselves, athletes, then that comes with conditions (whether they are "needed" or not).
What's the big deal? As long as they don't start saying that an antihistamine is a banned drug, I have no problem with this (outside sports in allergy season need to make some concessions).
Anyway..I'd like to hear what you think. A good debate is also fun 🙂
Golfgal
ps: I wasn't going to mention this, but did you see the LPGA is the first to announce it will bring in testing in 2008. Ladies first – AGAIN! 🙂
---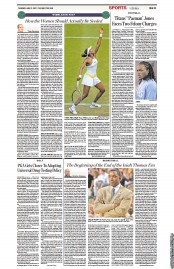 PGA Gets Closer To Adopting Universal Drug-Testing Policy

New York Sun
21 Jun 2007

CROMWELL, Conn. — The PGA Tour is getting closer to a rule on performance- enhancing drugs, and with testing likely to follow, commissioner Tim Finchem says golf organizations around the world should make sure they're on the same page. Even with Tiger… read more…
Tech Tags: New York Sun newspaper Sports

Pamper yourself on Maui! Book your little piece of heaven in golfers' paradise. Book now at http://www.vrbo.com/424659 and tell them Golfgal sent you!