Hi everyone
It saddens me to read this story about Michelle Wie. I have so much respect for that girl's game, but her "entourage" leaves a lot to be desired. I can't believe what she has had to go through with her parents. How can they exploit her so badly!!!
What actually happened with the wrist? What's the big secret? How can she go out and practice the day after she withdrew from the Ginn? I was shocked to hear what Annika said, but I don't blame her – something is not right…. Come on, Michelle…if you are injured and have to withdraw, that's fine, but to come back the next day and practice for the major right away…that leaves a bad taste in everyone's mouth.
I don't actually blame Michelle – in fact I just feel sorry for her – she is a puppet in the hands of her overbearing father IMHO and she just does what she is told. Maybe someday we will see her do to him, what Sean O'Hair did to his father in 2002 and break away. I can see it coming…what do you think?
Golfgal
---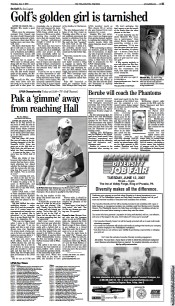 Golf's golden girl is tarnished
By Joe Logan
The Philadelphia Inquirer
07 Jun 2007

HAVRE DE GRACE, Md. — Michelle Wie needs a good week. Where once the statuesque teenager from Hawaii was the toast of golf, blessed with a man-size swing and a limitless future, these days Wie is looking more and more like, well, toast. OK, that's a… read more…
Tech Tags: The Philadelphia Inquirer newspaper SPORTS
Pamper yourself on Maui! Book your little piece of heaven in golfers' paradise. Book now at http://www.vrbo.com/424659 and tell them Golfgal sent you!