Dear fellow Canadians and golf fans everywhere…
I have to say I have some serious mixed emotions about Player picking Weir for the President's Cup, given his performance (or lack thereof) over the last 2 years. Yes, it is in Montreal and it would be very nice to see a Canadian in the field, but do we really believe that Mike is the only real draw for this event, when Tiger and Ernie and so many other great golfers will be there?
I am sorry…but having Gary say the tournament would be "flat" without a Canadian in the field insults me as a Canadian. I really believe Canadians who love golf and who could afford to make the trip to Montreal do not require a Canadian in the field to make the event a resounding success. In fact, I think this move by Player tells us and the other team members that it's not about creating a winning team – it's about media and peer pressure and politics and favoritism. If I were the other team members, I'd be peeved that Gary let pressure influence his decision. I'd want to be on a winning team with the best international players in the field. Sentiment has no place when it comes to winning and losing.
Sorry Mike…you're a good guy…but you didn't make the grade this year or last and so you shouldn't be on the International Team. Unless of course, this event is just a media event and not a real competition. Starting to look that way, unfortunately.
Golfgal
---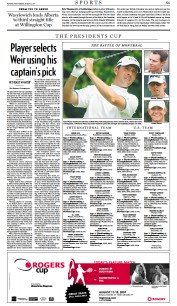 Player selects Weir using his captain's pick
BY ROBERT THOMPSON
National Post
14 Aug 2007

He may not be the top Canadian on the PGA Tour, or possess the best game in the country right now, but Mike Weir was one of the captains' picks yesterday for next month's Presidents Cup. "Mike is a real terrific competitor," International team captain… read more…
Tech Tags: National Post newspaper Sports
Pamper yourself on Maui! Book your little piece of heaven in golfers' paradise. Book now at http://www.vrbo.com/424659 and tell them Golfgal sent you!