No one loves a passionate golfer more than I do. But sometimes that passion has negative consequences and well…you pay the price for that. And so Ian Poulter is facing another fine.
When my partner or I get angry and swear or bang our club on the ground, we remind each other that "You're not good enough to get angry". Then we almost laugh – almost. It's so hard sometimes to keep tempers in check for us hackers and it costs us nothing. I can't imagine how I would hold my temper if I was a professional. So I feel for the guys and am surprised there aren't more incidents like this on the course.
Anway…I really like Ian Poulter and his outrageous fashion style. I can't wait to see his outfit at his wedding next Saturday. I'll make sure I post as many pics of him as I can from all the UK papers and tabloids.
And I love the line he used when asked why he is not playing on Nick Faldo's Britain and Ireland team at the Seve Trophy in Ireland next September because of the wedding.
Poulter said: "I've kept Katie waiting for 10 years, so I had better not say I can't make it on the day we've agreed because a golf tournament has come up."
Good answer Ian! Best wishes to you and Katie.
Golfgal
---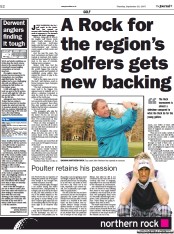 Poulter retains his passion

The Journal
20 Sep 2007

IAN POULTER has no intention of taking the passion out of his game even though it has brought him another European Tour fine. Poulter, pictured right, damaged a tee marker during last week's Mercedes-Benz Championship in Cologne, just as he did at the… read more…
Tech Tags: The Journal newspaper Golf


Pamper yourself on Maui! Book your little piece of heaven in golfers' paradise. Book now at http://www.vrbo.com/424659 and tell them Golfgal sent you!